Tongli is situated in Wujiang county of Suzhou province. Located near the Taihu Lake and on the eastern shore of ancient canal. Tongli itself is surrounded by eight lakes of Wujiang city, which are Tongli, Jiuli, Chenghu, Muzhuang, Baiyan, Yeze, Nanxing, Pangshanhu.
Tongli's history can be dated back to 6 thousand years ago. The Songze Culture was founded at the lakeside, which explains in the ancient times Tongli is already a well-developed community. It was named "Futu", which means the rich land, during the pre-Qing dynasty, later in Tang dynasty changed its name to "Tongli" which means the copper county, and the name has been used until today.
Tongli is perfectly located in the centre of Shanghai, Suzhou and Hangzhou. It is only 1 hour away from Shanghai Hongqiao airport, is connected to Highway G50, G42 and Freeway Sujiahang, perfectly convenient for both leisure and business trips.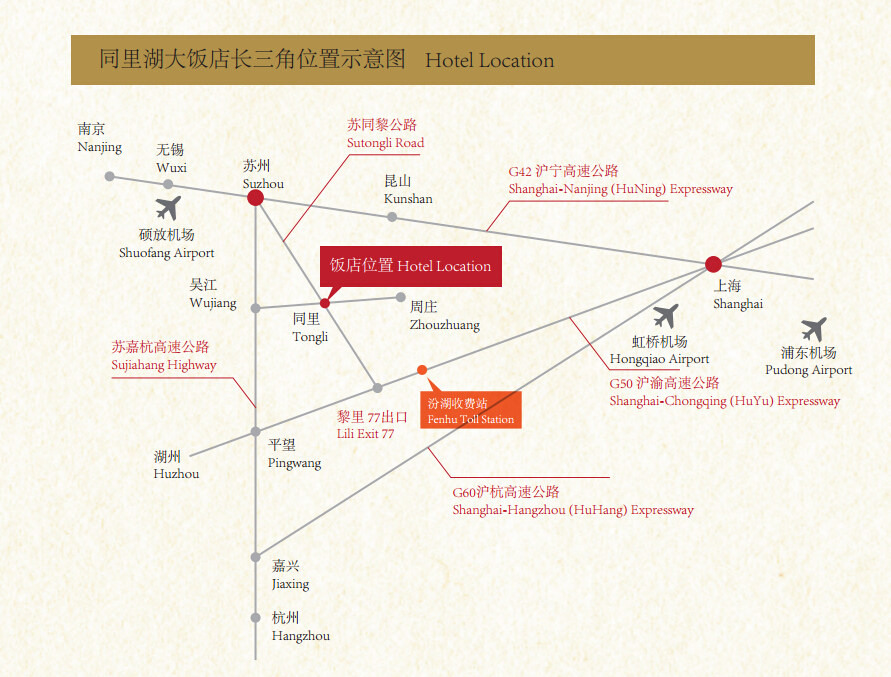 [Yangtze Delta business Area]
Shanghai Hongqiao airport 80KMs
Shanghai Pudong airport 150KMs
Suzhou Wuzhong Economics developing area 10 KMs
SuzhouSingaporeindustrial Site 20 KMs
Suzhou Gaoxin Area 25 KMs
Kunshan 48KMs
Wuxi 76KMs
Changzhou 120KMs
Hanzhou 160KMs
Nanjing 230KMs
[Scenic Sites]
Tongli ancient town 1 KMs
Luoxingzhou 1.5 KMs
Xiaotianhu forrest park 13 KMs
Suzhou old city 30 KMs
East Tai lake 20 KMs
Zouzhuang ancient town 20 KMs
Luzhi ancient town 25 KMs
Mudu ancient town 30 KMs
Guangfu ancient town 40 KMs